Last week, Dustin and I took a 5-night/6-day holiday to snowboard in Val d'Isère in the French Alps. This is a summary of our trip.
"Val d'Isère is a ski resort in the French Alps, near the Italian border. With nearby Tignes, it's part of the Espace Killy ski area. Here, ski lifts give access to sites like the steep Face de Bellevarde, a black-rated piste, and the Grande Motte glacier, known for summer ski runs. The Col de l'Iseran mountain pass is a popular cycle route in summer. In town, bars and restaurants cluster around Avenue Olympique."
We flew from London to Geneva, Switzerland on Tuesday, January 24th on Swiss Air (1.5 hour flight), and then rented a car to drive from Geneva to Val d'Isère (about a 3 hour drive.) To be fair, Dustin did all the driving as he's much better on those narrow mountain roads!
And lucky us, our snowboards made it to Geneva this time. (If you recall, they were stuck in Heathrow for a month when we went to Finland over Christmas.)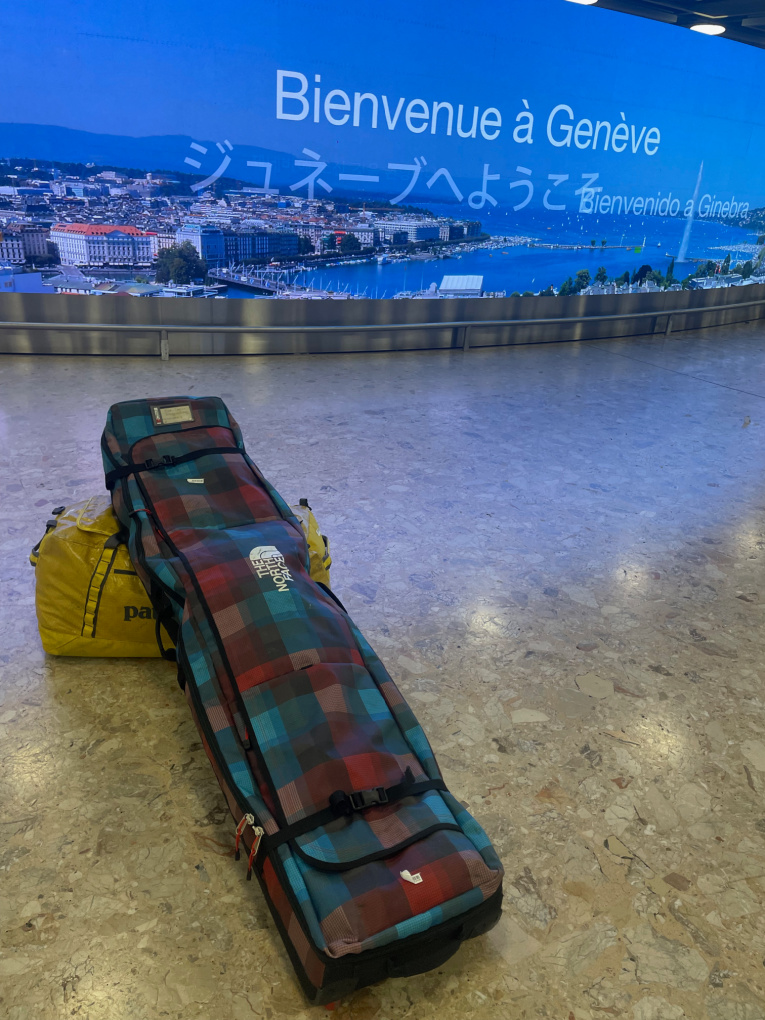 We stopped for lunch in Annecy, France, which was a charming little mountain lake town. We ate at Alto Annecy which was kind of a random pick, but it was an odd time of day, (about 2 pm on a Tuesday) and we just needed a place that was open. But it ended up being pretty tasty.
After checking into our hotel, we explored the ski town a bit, stopping at the grocery store for a few items. That evening, we had dinner at Le Bambou Restaurant, a small sushi/Asian restaurant.
We stayed at the Hotel Tsanteleina, which was right at the base of the mountain. So once we were in town, we really didn't need a car. If you didn't have car at all and didn't stay at the base, there was a free bus from the different base areas (Dailles, Tignes, etc.) Parking was a little expensive, considering we only used the car to get from Geneva to the mountain and back. Several hotels offer an airport shuttle if you want to skip the car.
Our hotel stay at Hotel Tsanteleina included a grand breakfast, which was lovely.
Wednesday's snowboarding started out a little rough- it was REALLY windy and I was a little intimidated by the Alps at first. On my first run, I took a hard fall as I couldn't really see where I was going with the snow whipping around in the wind. I hit the back of my head quite hard; it took my breath away. So glad I was wearing a helmet!
(99.9% of the people we saw were wearing helmets, but I don't think its technically a requirement. I would never go without!)
That fall shook my confidence a bit, but I was able to recover and eventually got a bit more comfortable.
That evening, we checked out the hot tub, sauna, and steam room at the hotel before making our way to dinner at Le Garage, which was a casual fun restaurant, one of our favourites in Val, made even more charming by the huge St. Bernard dog that was seated near us, ha!
(Picture below taken at Le Garage, unfortunately the St. Bernard didn't make the photo! But the Norwegian sweater my mother-in-law recently gave me did, ha!)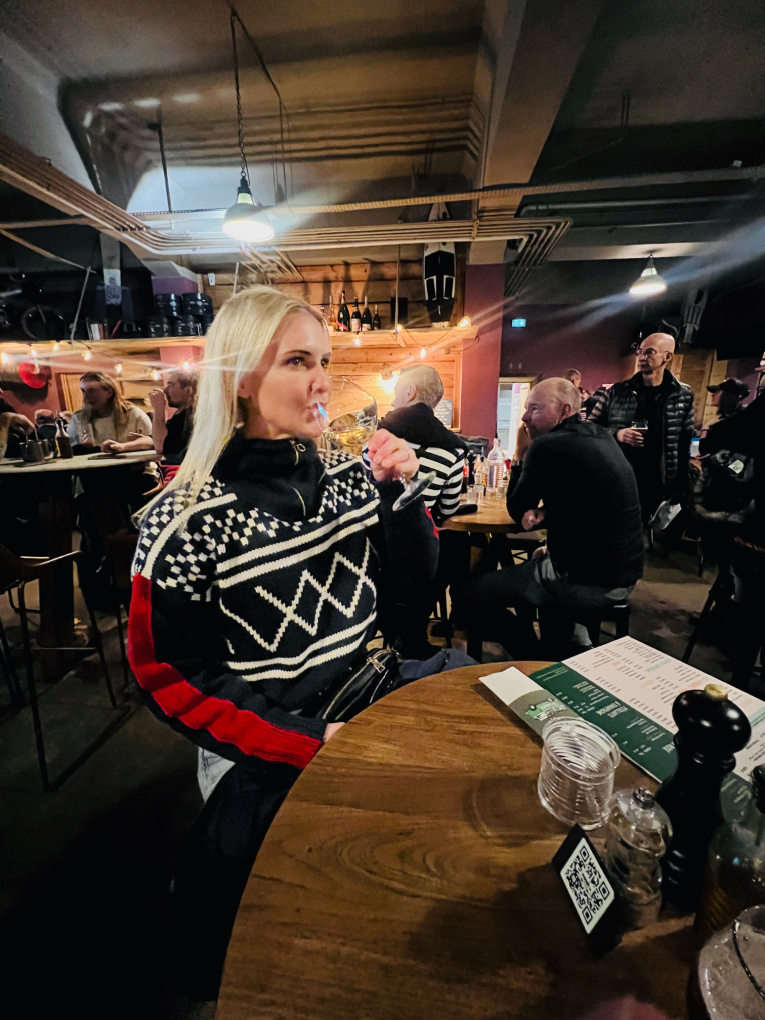 On Thursday, I was very sore from my first full day of skiing the Alps. Dustin had signed up for a guided off-piste tour for advanced snowboarders only, so I decided it was a good day to go for a run instead.
I ran 6.2 miles in the town on the sidewalks; I had found a few Strava routes, but they were apparently were trail runs and those trails were not plowed, so I had to run the sidewalks instead. Then I hit the gym for a bit of core and strength training, before joining Dustin on the mountain for the rest of the afternoon of snowboarding.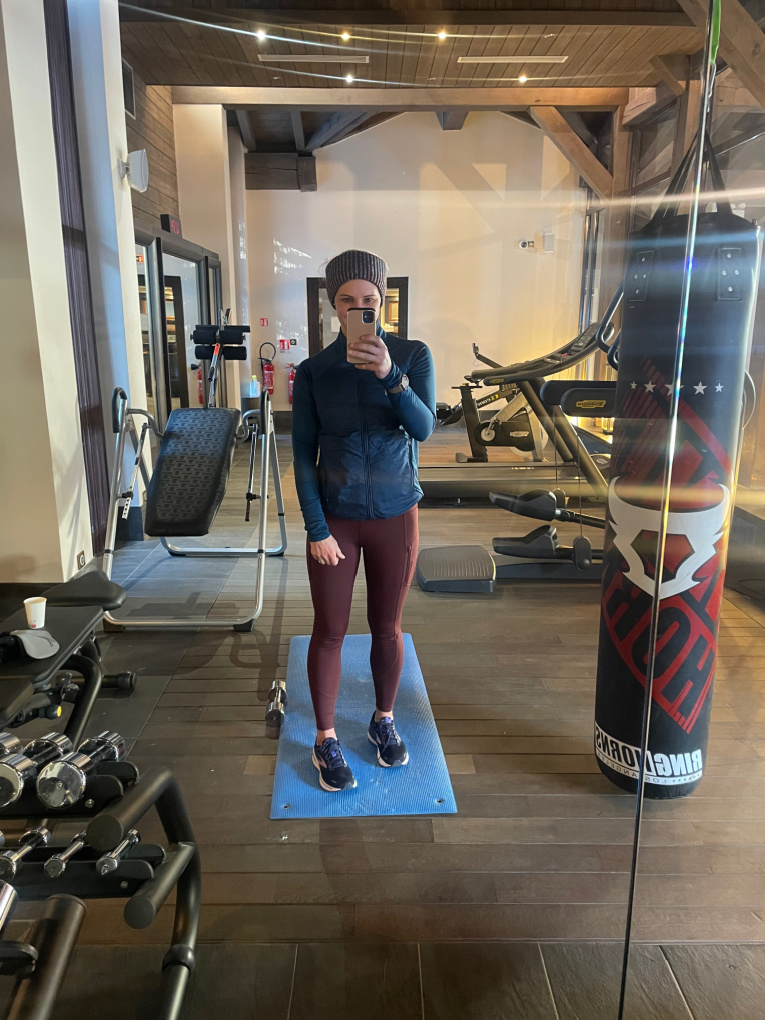 He was pretty tired from an aggressive morning off-piste, so we took it easier than the previous day.
I didn't feel guilty about not getting in a full day of snowboarding because the lift tickets were so much cheaper than the U.S.! A full day at Val d'isere is 60 euro, vs. the $200+ passes at some of the U.S. resorts. I believe that part of the reason for the cheaper tickets is because you are 100% responsible for your own rescue if you get injured or stuck; the resort takes no liability. This tracks, as my sister Erin had a traumatic knee injury when skiing the Alps many years ago, and she had to be helicoptered off the mountain. She was in graduate school in the U.K. at the time; her medical expenses cost my parents a small fortune! (She's just fine now and an avid runner, though she hasn't skied since then.)
Bonus picture from a magic carpet ride up to a different lift at one point. I don't think I've been on a magic carpet since I was first learning to snowboard!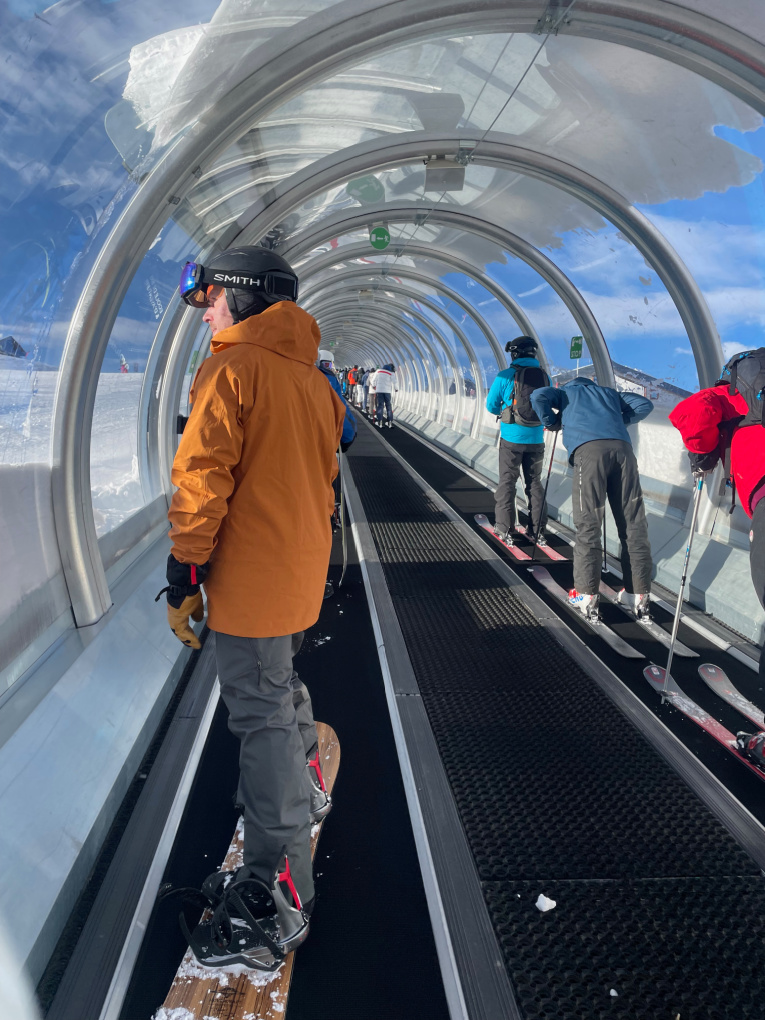 Fondue is popular in this part of France, so of course we had to have it at least once during our visit. We went to the Fondue Factory; we had read some reviews that this restaurant was not friendly to non-French speakers, and well..the reviews were right. The fondue was fine; can't go wrong with bread and cheese in my mind. But we didn't feel all that welcomed and probably wouldn't eat there again.
Friday– Another full day of snowboarding!
We had a late lunch booking (3 pm) at La Folie Douce; if you've skied the Alps, you may have heard of this place, as there are several locations across France.
La Folie Douce was QUITE the scene, between cirque de soleil type performances and very inebriated skiers dancing on tables (in their ski boots- yowsa!)
Dustin and I aren't much of "clubbers" perse, but it was quite entertaining to observe!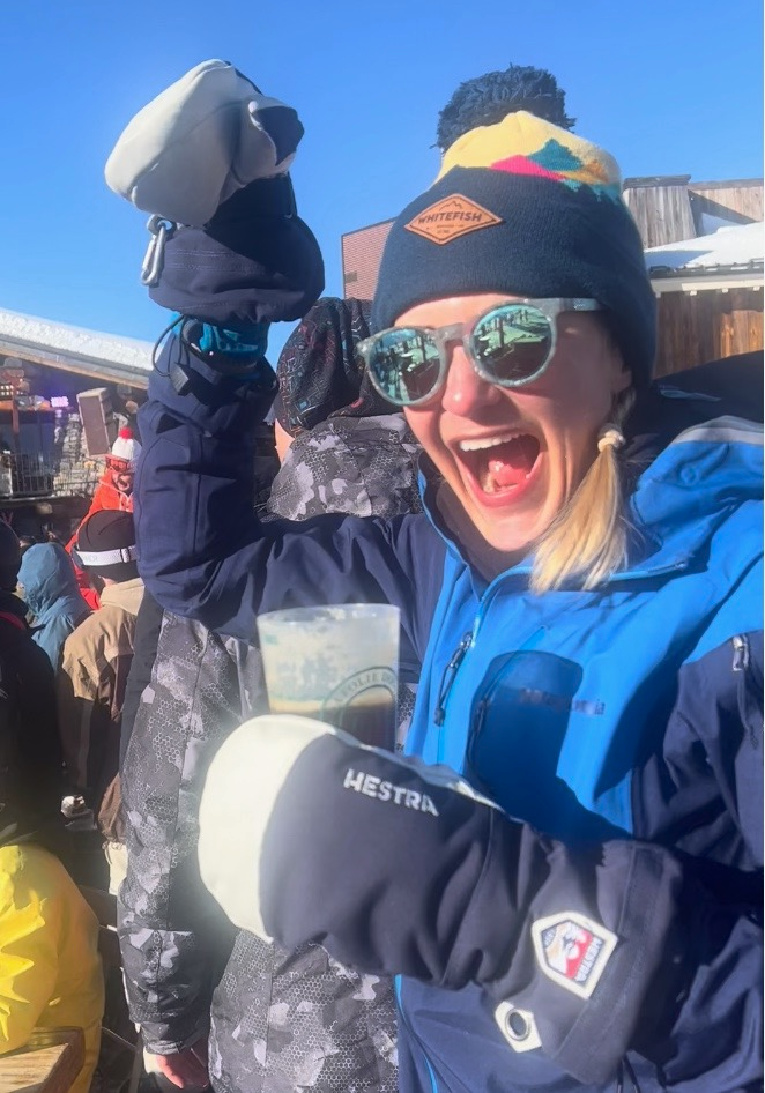 The lunch was expensive for what we ate, but I'm still glad we were part of the cultural experience.
We ended up just getting sandwiches at the grocery store that night and laying low after a few après ski drinks at La Folie Douce and a few full days of snowboarding (it wears you out!)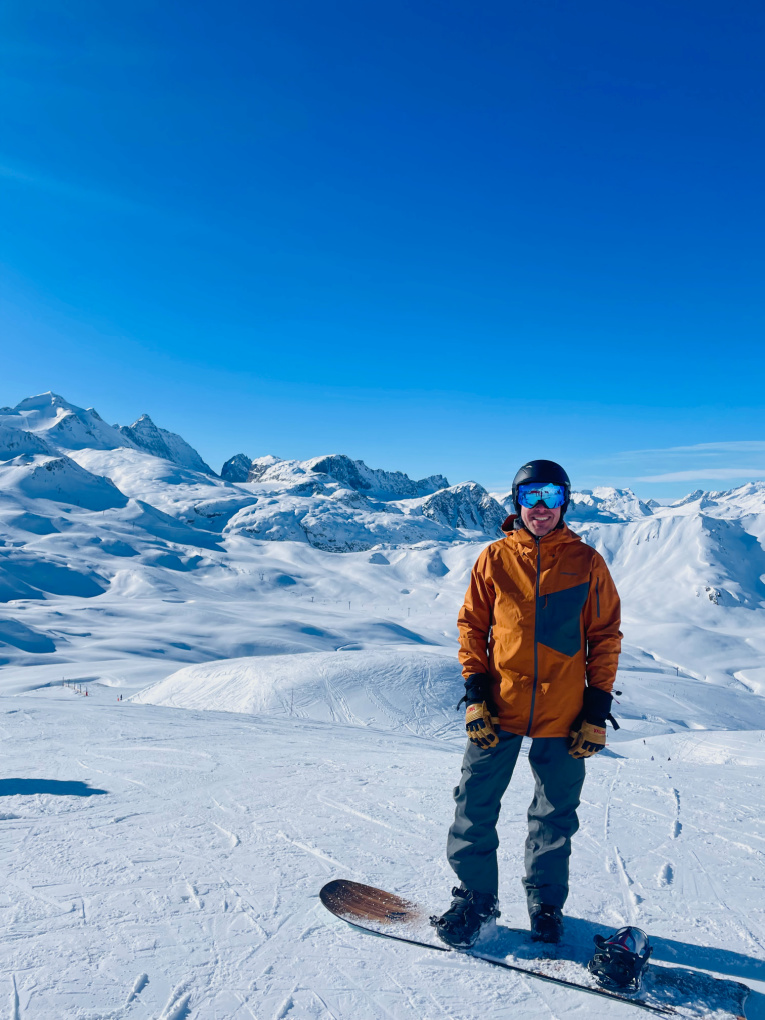 Saturday: Our last day of snowboarding; and our longest day; Strava told me it was my "longest snowboard" on record (I think that was based on distance, which was about 21-22 miles.)
After surviving four days on the Alps with no injuries, we celebrated with great dinner at Avancher restaurant (very good!) down the road from our hotel.
Sunday: I was up early for a short 4 mile run (where I met two French vizslas- age 12 and 4, very similar to Matilda and Ruth!)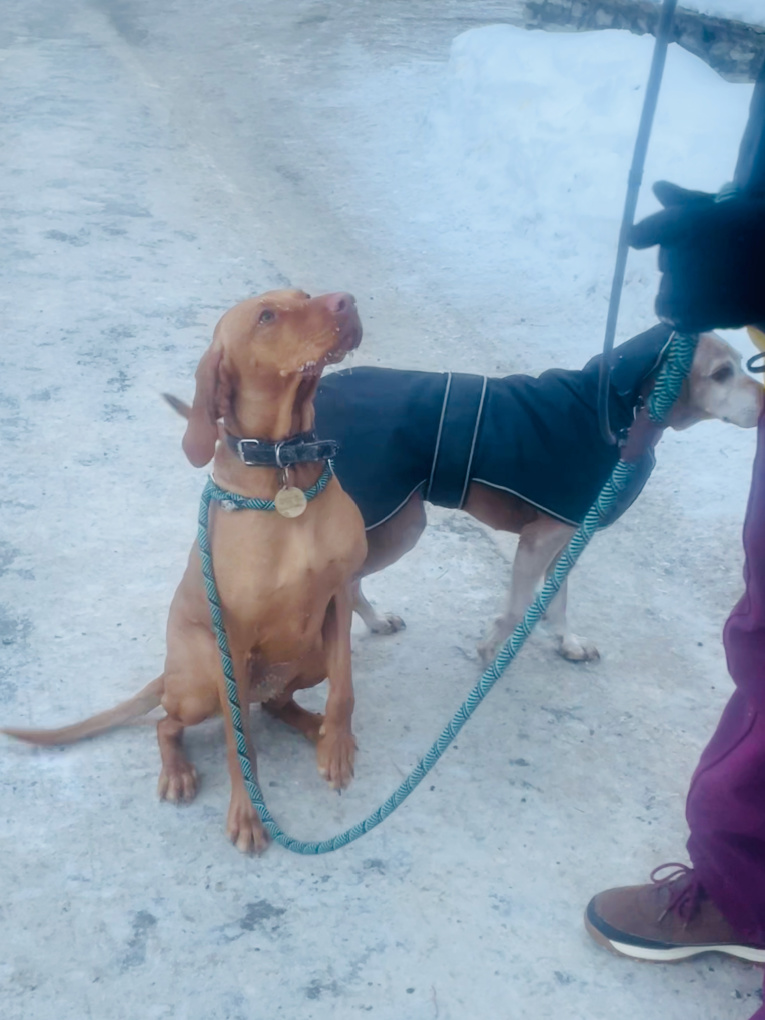 Then one last stop at our hotel breakfast before hitting the road for the 3-hour drive back to the Geneva airport.
Our flight from Geneva to London was uneventful, though we did find out when we landed that once again our snowboard bag didn't make it with us. It was stuck in Geneva. I'm sure we'll get it eventually, though it does seem like we have some bad luck with that bag! It's not as concerning this time though, since we won't be snowboarding again this year. At least we had our own stuff for the actual snowboarding and didn't have to rent like we did in Finland.
Thanks to our Rover (dog-sitter) Katie for taking great care of Ruth and Matilda while we were gone. 5 nights away was a long time. I missed those sweeties, but they were in good hands.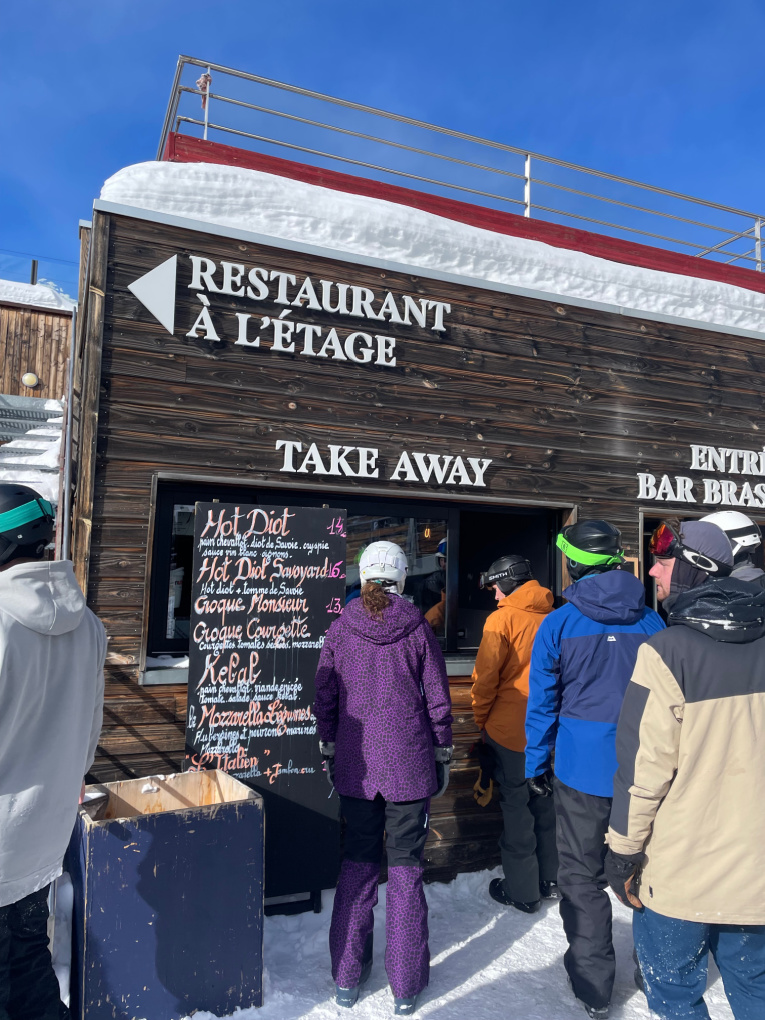 Differences between skiing in the Europe vs U.S. resorts:
The lift tickets are much cheaper in Europe than the U.S.
Food is probably more expensive generally in Europe; just comparing the cafeteria style lunch places no the mountain- we paid 14 euro for a hot dog at lunch once (see above picture!)
Runs are rated green, blue, red, and black. No double black diamonds in Europe.
Nothing is "out-of-bounds" in Europe. You can ski off piste at your own risk essentially anywhere you want.
When there are lift lines, they can get a little pushy. I think that the lift lines in the U.S. are much more organized (plus more staff, which I'm sure contributes to the higher lift pass price.)
There is a distinct Euro-clubber/party scene, very different in my opinion to the chill mountain vibe at most U.S. ski resorts.
Some of my colleagues have said that the Alps are more "severe" and the snow isn't generally as good as West coast resorts in the U.S., but I think that can really vary per location and year. Val d'Isère is at pretty high elevation, which helped give us better snow that some of the other parts of the Alps this year.
We hope to explore another part of the Alps next year (hopefully with a few of our American friends who want to join us!) If you have any recommendations, please share!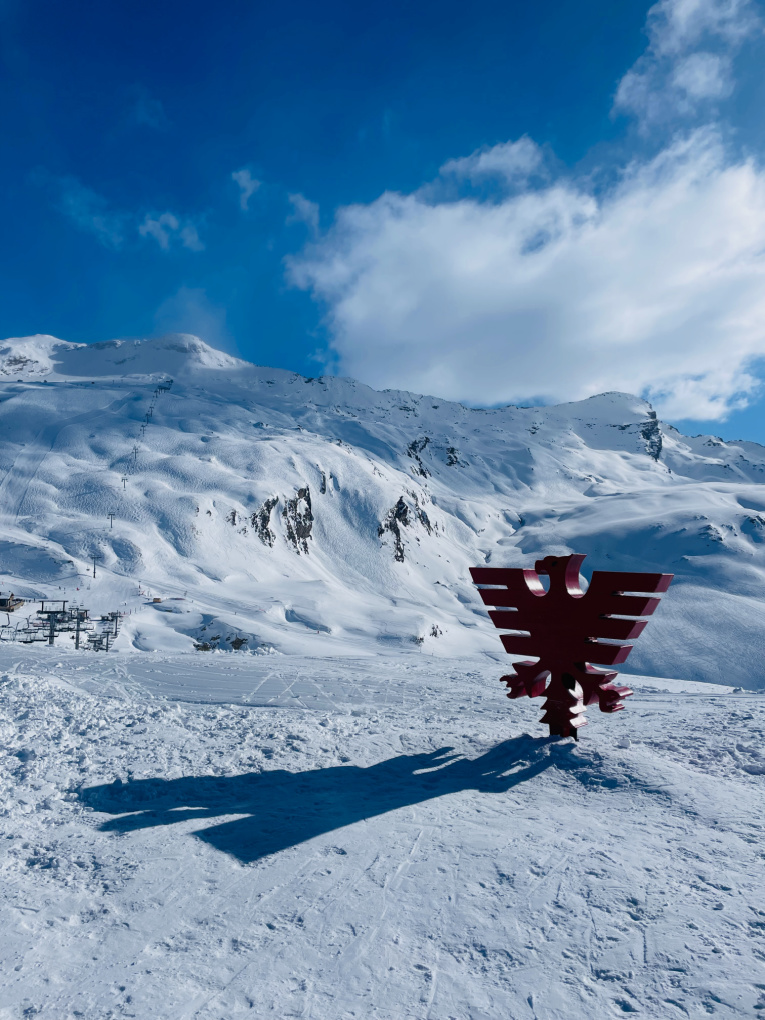 (Visited 92 time, 2 visit today)


Credit : Source Post